Our History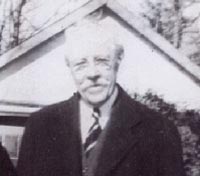 Lyndell's Founder,
Birger Lindahl
In 1887, Lyndell's Bakery opened for business only 45 years after the City of Somerville was officially incorporated. Birger C. Lindahl, a Swedish immigrant who arrived in America in 1882, changed the spelling of his name to Lyndell and converted his fresh bread home delivery route to a bakery shop.
Lyndell's opened before the invention of the modern automobile and is well known as the "Godfather" of all New England scratch bakeries. Lyndell's Bakery has baked treats for generations, and today people
everywhere visit the bakery to enjoy the same experience.
Birger Lyndell owned the bakery for 45 years until 1932 when Eugene and Albert Klemm became the new owners. For the next 40 years, the Klemms operated the bakery and introduced many new European style baked goods including rich chocolate cakes, fresh cream, and puff pastries.
In 1972, the Klemms sold Lyndell's to a young baker who worked for them. For the next 28 years Herman Kett and his wife Janet continued the great Lyndell's tradition by baking fresh everyday and introducing new popular Holiday Items.
In 2000, the Ketts retired and sold Lyndell's to the fourth and current owner, the Galatis family. Jim Dufoe became Lyndell's  operating partner in 2013.
The Lyndell's Legend continues because things are done the old fashioned way. Our bakers and decorators use baking methods and customs of an earlier time, making fresh handmade goods every day. The plan is to keep it that way.